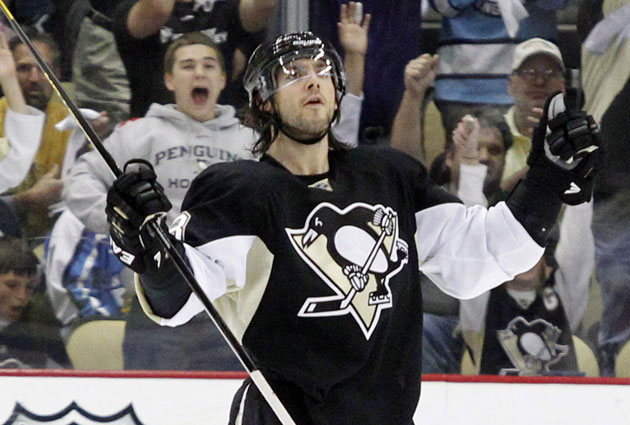 Player:  Kris Letang
Stats:  35 GP, 38 points (5g – 33a)
Status:  1 year left on his 4 year $14 million deal and then his 8 year $58 million deal kicks in
Kris Letang had a year that was filled with mind-boggling play.  Interpret that however you want and chances are you can make an argument that fits your opinion of Letang.  He's the kind of player that can be on the ice for 4 goals-for versus the Montreal Canadiens, register 4 assists and still leave the game with a +/- rating of -2.  As many mistakes as he made, and as many goals as the opponent scored because he made a crucial turnover, Letang always seemed to bounce back, always seemed to make a positive mark on a game.  As Morgan Freeman's character Red said about Andy Dufrense in The Shawshank Redemption, Kris Letang could "crawl through a river of sh*t and come out clean on the other side."
Letang's regular season earned him his first Norris Trophy nomination as the league's best defenseman.  He had a Corsi rating of 9.20, leading all Penguin defensemen in that regard.  He earned a reputation as a hot-head who couldn't keep his composure, but he ended the regular with only 8 PIMs from 4 minor penalties and no majors or misconducts.  He's made a name for himself in the offensive zone, leading all NHL defenseman with 38 points (tied with Norris Trophy-winner PK Subban).  However, his play in his own end is where Letang gets the most criticism.  He was on the ice for 26 even strength goals against, giving him a team-worst even strength goals-against/60 minutes rating of 2.47 (PK Subban and Ryan Suter's same stat was 1.66 and 2.07, respectively).
In the playoffs, Letang had 16 points in 15 games, tying him for the team-lead with Evgeni Malkin.  Defensively, this was not a banner playoff year for Letang.  He was on the ice for 16 even strength goals against, by far the worst on the team.  His GA On/60 was 3.36, third-worse on the team behind Simon Despres (3.65) and Deryk Engelland (4.10).  However, it wasn't all negative for Letang.  He was third among Penguin defensemen in PK time with 2:25 minutes per game and was on the ice for only 2 PP goals against.   He was also a huge minute-cruncher, playing 27:37 minutes/game, a minute more than fellow defenseman Paul Martin.
Now we turn to the question of what to do with Kris Letang.  Ray Shero seemingly answered that question by giving Letang an 8 year $58 million extension that kicks in after next season.  The deal comes with a limited no-trade clause that allows Letang to give Shero a list of a "handful" of team he will accept a trade to.  Letang, for the time being at least, is a Penguin.  What now?  The Norris Trophy nomination aside, Letang was not the best defensemen for the Penguins.  He was not the best point man on the PP.  Both of those honors go to Paul Martin.  He was not part of the team's best pairing.  That was Martin and Orpik.  Letang is a top-4 defenseman, but he will soon be getting paid like he's the #1 guy.  Careless turnovers and suspect play in his own end needs to be a thing of the past.  Letang is, arguably, the best offensive-defenseman in the NHL.  He's only 26 years old.  Ray Shero just bet $58 million that Letang's game will still develop and improve.  I think it will.  I just don't know on which end of the ice that development will occur.